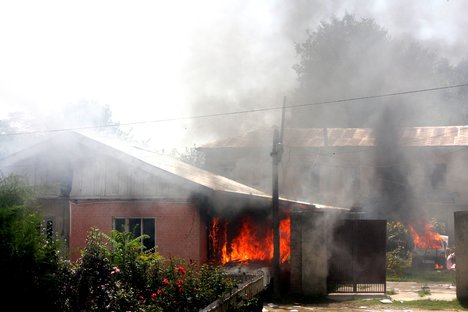 Photo - Google Image
IT was a black Saturday in Iyanomo Community

Benin city

when

suspected cultists

stormed the area in search of a young man who was alleged to have master minded the killing of their member with a gun and axe.
The said cultists stormed the family house of the young man whom they seek to kill to avenge their slain member but met no one at home. Witnesses reported that the cultists out of anger decided to set the whole house ablaze while they went about robbing members of the community who were within that same street.
The community chiefs have alerted the police according to reports and surveillance have been mounted seriously to arrest the perpetrators who caused the Saturday pandemonium.
The above photo was used for illustrative purpose.
All over the world, good and responsible journalism ensures the promotion of a free society, accountable governance, empowerment of citizens and protection of human rights.
For continued publishing of value-adding information, NAIJA MAGAZINE ONLINE kindly requests your support and partnership as responsible journalism is expensive.
For ADVERTS, please contact The Editor by email: naijamagazineonline@gmail.com.
For DONATIONS, please click the DONATE button below.
By partnering with NAIJA MAGAZINE ONLINE, you are helping create a sustainable heritage for all.
Kindly share, leave a comment, contact us, like or follow us on Twitter

Facebook

Instagram

. Do you have a story, or want to publicise your activities and promote your brand? Contact the Editor by

Email

.